What's your favourite scary movie? Well 'Scream 4' definitely won't be. you'd also think it would be nice to see a new installment of the franchise that didn't make you think about 'Scary Movie', but it wasn't. It's been over ten years since the original 'Scream' and the franchise has made a return when it should have stayed dead. You know the story, Sydney Prescott has been the target for a number of serial killers wo love wearing that ghostface mask for three films now. This time it's no different, just worse.
Joined by the original cast of Dewey and Gail (because the rest of their friends are dead) the Woodsboro murders are happening once again when Sydney returns to her home town to promote a book she has written on the tenth anniversary of the first killings which is very convenient indeed. Obviously every good slasher movie needs hot teenage girls to be killed off and this comes in the form of Sydney's cousin 'Jill' and her two friends one of whom is played by Hayden Panettiere who was obviously only thrown in for her incredible acting ability...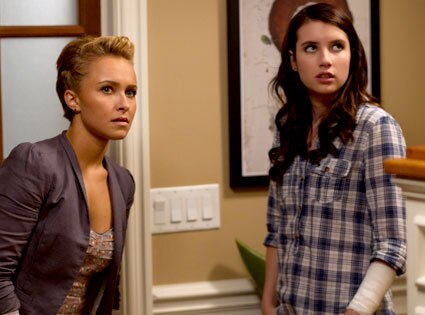 The rest of the supporting cast is made up of some great actors and actresses who just aren't used enough, most notably Adam Brody and Kristen Bell.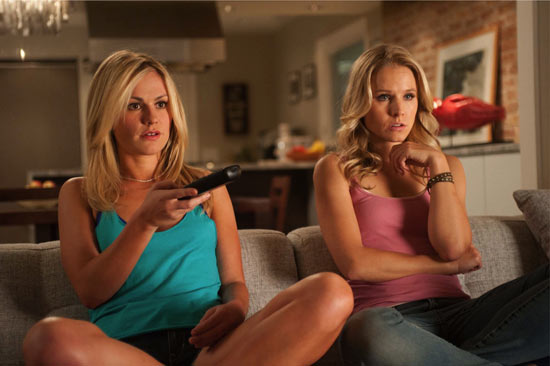 The old 'Scream' films used to leave their fans with a little bit of fear that maybe the killer would jump out of their wardrobe or be upstairs lurking, there will be no fear after seeing this. The beginning is painful to watch, if you don't shield your hands in fear you'll shield them to hide your cringes, it starts off by being a film within a film that you're watching in a film! Kinda like Inception, only awful.
Another downside to the film was Courtney Cox's character, acting and general presence. Gail Weathers has now started writing fiction about the killer who attempted to kill her on three occasions. This transition didn't make any sense and was only mentioned once. Gail and Dewey are now married too... just so you know (awkward after thier real life divorce eh?)... that is one of the most stand out, interesting points of her character in this movie.
As for that jumping sensation that you get from watching the old ones or the impending climax as Sydney reaches for the door or when you know the killer is in the house and he could jump out at any second and scare you well I'm afraid to say it's not done very well, three jumpy parts in total, the rest you could see coming a mile off. It seems Wes Craven has concentrated too much on talking about Facebook, Twitter and webcams and not enough about creating the key aspect of a scary movie.
Scream 4 is a let down for fans of the franchise and the main saving graces, apart from the eye candy of Panettiere and Kristen Bell, are the references to the original trilogy which will give you a lovely nostalgic feeling, until you realise the original is being butchered right in front of you. 'Scary Movie' would have been a more approporiate sequal.
Fear not though... we hear they are commissioning another 2 'Scream' sequels to finish this off as a new trilogy, maybe they will get it right next time?